---
Do you wish your dog would listen better?
Is your dog's behavior frustrating or embarrassing?
Are you looking for a trainer who will teach you everything you need to know?
We can help!  Having a dog is supposed to be fun but we know living with a dog that takes things off the counters, drags you down the street, or never sits still is anything but fun.  We work with families like yours everyday and we offer dog training solutions that work.  Our clients want well behaved companions, we deliver them.
Call us today and tell us about your dog!
(608) 799-7150
---
Watch this video to see just a few of the things your dog can learn:
Free Article "The Top 4 Mistakes People Make When Training Their Dogs":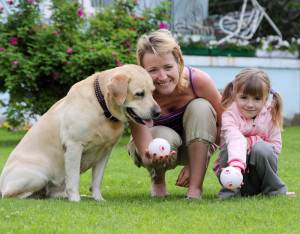 To get our free Article "The Top Four Mistakes People Make When Training Their Dogs and How To Avoid Them" click here:
---
"Although she is wonderful with other dogs, Nyota, our Rhodesian Ridgeback, has always been a bit nervous around people, and she can sometimes be territorial. We have worked for months on Nyota's anxiety, and with a baby on the way, my wife and I decided to get Kate's help with training our puppy. Kate already had a relationship with Nyota because she knew her from the doggy daycare we used, and we ended up boarding Nyota with Kate while we were out of town so that Nyota could do Kate's Dream Dog Program. We have seen a great improvement in Nyota's behavior, and our puppy gets along famously with our new daughter. We thank Kate for being so good to Nyota, for being so flexible with dealing with our hectic schedules, and, more broadly, for helping our growing family!" -Ray