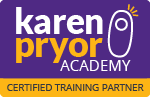 Are you well prepared to help clients with their pet behavior issues?
Pet owners often rely on veterinary offices to help them with their pet training and behavior questions, but why should you trust us with your clients?  We believe that behavior is an important part of an animals overall health and well-being and we have found that veterinarians and trainers working together as a team leads to the best results for pets and their people.  We regularly work with our clients veterinary teams to rule out medical causes for behavior and move forward with behavior modification plans.
---
Our trainer is a Karen Pryor Academy Certified Training Partner.
Karen Pryor Academy (KPA) provides veterinarians with a reliable, quality-controlled global network of dog trainers who teach and train using positive reinforcement principles.  To graduate the program students must earn the equilvelant of an A on on a written test, a training test, and a teaching test.  They then must maintain their credentials through client surveys or by completing continuing education units every year.
The American Veterinary Society of Animal Behavior Recommends:
That veterinarians use or refer their clients ONLY to trainers and behavior consultants who understand and use the principles of positive reinforcement training.  Click here to read their statement.  For more information on the American Veterinary Society of Animal Behavior visit their website:
www.avsabonline.org
We are dedicated to continuing education.
As Karen Pryor Academy graduates we are required to continue our education annually, and we are dedicated to bringing the most up-to-date and scientifically sound training methods to our clients.  Our most recent seminars and courses include:
–ClickerExpo 2015: Three days of lectures and hands-on labs taught by some of the top trainers and behaviorists in the country.
–Living and Learning With Animals:  An 8 week telecourse on applied behavior analysis and behavior change.  Taught by Dr. Susan Friedman.
---
Interested in learning more about us?
We offer a variety of complimentary educational resources for both your staff and your clients.  We would be happy to visit your office for a "lunch and learn", we will bring lunch for your staff, demonstrate how we train and answer any questions you might have.  The length of the program can be tailored to meet your needs.  Contact us today if you have questions or if you would like to schedule a lunch and learn.
Contact Us:
608.799.7150
mydogandme@live.com