Private Dog Training Programs
Agility Classes
Agility is a fun and fast-paced dog sport where you will learn to guide your dog through an obstacle course while racing against the clock.  This sport is great for any dog but is especially suited for dogs that have more energy than their owners know what to do with!
At My Dog and Me, LLC we offer both agility classes and private lessons at our facility in Sparta Wisconsin.
Our agility instructor, Kate Olson, has been competing in agility for over ten years with dogs of various breeds including border collies, australian shepherds, and a miniature dachshund.  Her dogs have competed successfully at the top levels of competition in AKC, USDAA, and NADAC competitions.  She is currently training her Pyrenean shepherd and Nova Scotia duck tolling retriever.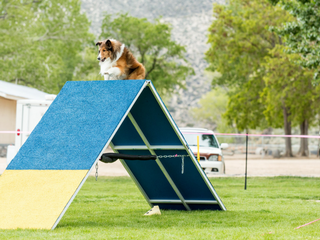 Dog Sports Foundations
This class a pre-requisite for any of our sports classes. In this class you'll learn the basics of agility and nose work as well as all the skills you and your dog need to move seamlessly into any sport.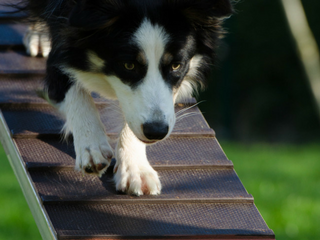 Agility for all Levels
Kate has years of experience instructing students of varying levels and has designed this class to be flexible flexible and to offer new learning and challenges for students of all levels.
Regardless of whether you've just finished our foundations class or are actively competing in agility, this class will offer new challenges.
Coming Soon!
PreRequisite: Life Skills, Dog Sports Foundation, or Instructor Permission.
My Dog and Me, LLC provides in-home private dog training, behavior consultations, and group dog training classes in Sparta, Viroqua, Tomah, La Crosse, Onalaska, Holmen and the surrounding areas. We use positive reinforcement training methods, including clicker training and game based training, that are fun and easy to use. Services include obedience training for dogs and puppies of all ages, puppy training classes, agility classes, and solving problems such as pulling on the leash, not coming when called, puppy play biting, chewing and house training, service dog training, aggression, fear, and reactivity.